Classification and uses
The connection of reactors is divided into series connection and parallel connection. Series connected reactors usually function as current limiters, while parallel connected reactors are often used for reactive power compensation.
Series connected reactors play a role in suppressing impulse current when the capacitor circuit installed in the capacitor circuit is put into operation, and also form a harmonic circuit together with the capacitor bank to filter specific harmonics.
Parallel connected reactors are connected to the primary coil of transformer in ultra-high distance transmission system. It is used to compensate the capacitive charging current of the line, limit the system voltage rise and operating overvoltage, thus reducing the insulation level of the system and ensuring reliable operation of the line.
Conditions of use
1. Place of use: outdoor or indoor
2. Service environment temperature: -5℃ ~+40℃
3. ASL: 1000m (please specify at ordering if exceeding 1000m)
4. The installation place shall have no harmful gas, steam and conductive or explosive dust
Product parameter
Types of meaning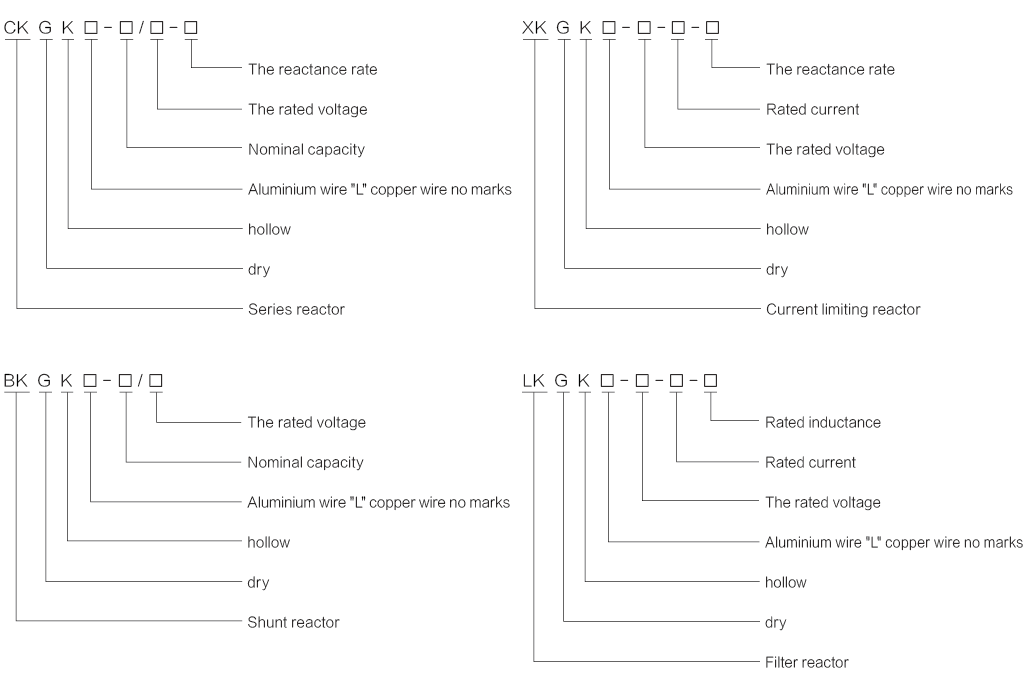 Rated voltage and the related technical parameters
Rated power system (kV)

Parallel capacitor group

Series reactor rated voltage (kV)

The rated voltage (kV)

Each phase serial number

Rated reactance rate (%)

4.8

6

12

13

6

6.6/√3

1

0.183

0.229

 

 

7.2/√ 3

1

 

 

0.499

0.54

10

11/√ 3

1

0.305

0.381

 

 

12/√ 3

1

 

 

0.831

0.901

 

11

2

1.056

1.32

 

 

12

2

 

 

2.88

3.12

63

20

2

1.92

2.4

 

 

22

2

 

 

5.28

5.72
Dry-Type Air-Core Reactor manufacturer
Zhejiang Pengbian Electric Co., Ltd. is located in China's electrical capital, is a collection of high-tech at home and abroad in one, the development and production of power transmission equipment key enterprises.
The company has advanced production equipment and exquisite manufacturing technology, specializing in the production of dry type transformer, oil-immersed transformer, special transformer, all kinds of reactor, wind power, photovoltaic transformer substation, substation transformer core, European-style box-type substation, American box transformer substation, high and low voltage complete sets of electrical equipment, power transmission and transformation equipment such as high and low voltage switchgear. Products should be widely in electric power, railway, industrial and mining enterprises, shipping, etc.