Product overview
ZSCB10 series double split epoxy resin cast rectifier transformer is a new type of dry rectifier transformer developed by our company with high-tech content. It is made of high-quality materials with advanced production and testing equipment according to strict process. It is a dry-type transformer with high electrical strength, mechanical strength and heat resistance. The product has the characteristics of high reliability and long service life. It is suitable for PV power plants, chemical and rubber industries, etc. Different protection levels can be configured for different use environments.
Product advantage
1. Especially suitable for high altitude;
2. At the same time improve the performance of heat and heat;
3. To eliminate the harmonic effect;
4. Low voltage winding insulation design, special electric performance is stable;
5. According to the different environment, can configure different protection grade;
6. The national star products and timely after-sales service.
Product standards
GB1094.1~2-1996 Power transformer
GB1094.3.5-2003 Power transformer
GB1094.4-2005 Power transformer
GB1094.11-2007 Dry-type power transformer
GB/T 10228-2015 Dry-type power transformer technical parameters and requirements
Product parameter
Types of meaning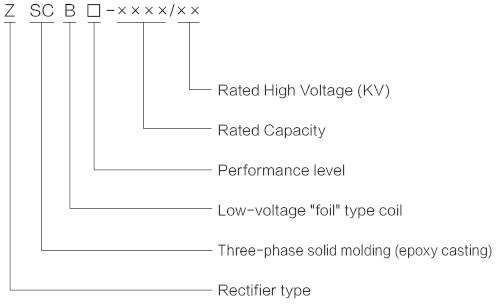 Structure principle
he high voltage of this series of products is generally 6kV, 10 kV and 35 kV; low voltage is generally 0.66 kV, 0.4 kV, 0.315 kV and 0.27kv.The low-voltage coil has two groups of outgoing lines, one group is connected into y pattern and the other group is connected into d pattern. Its connection groups are D, do, y11 or D, y11, do. The external rectifier of the transformer provides 12-pulse DC power for the equipment. This kind of transformer requires either traversing or semi-traversing operation. To ensure that the short-circuit impedance of the two low-voltage coils to the high-voltage coil is approximately equal, the high-voltage coil and the low-voltage coil adopt an axial bidirectional split structure, in which each half of the high-voltage coil corresponds to the corresponding low-voltage coil (d or y).
In this way, the magnetic potential distribution of high and low voltage coils is balanced along the axial direction, which can greatly reduce the electric power during short circuit, thus improve that capability of resisting sudden short circuit.
The high-voltage coil is an epoxy resin cast coil, and the low voltage is a foil coil structure. A group of low-voltage leads are led out from the upper side and another from the lower side. The series of products have been successfully put into operation and are in good condition.
Zhejiang Pengbian Electric Co., Ltd. is located in China's electrical capital, is a collection of high-tech at home and abroad in one, the development and production of power transmission equipment key enterprises.
The company has advanced production equipment and exquisite manufacturing technology, specializing in the production of dry type transformer, oil-immersed transformer, special transformer, all kinds of reactor, wind power, photovoltaic transformer substation, substation transformer core, European-style box-type substation, American box transformer substation, high and low voltage complete sets of electrical equipment, power transmission and transformation equipment such as high and low voltage switchgear. Products should be widely in electric power, railway, industrial and mining enterprises, shipping, etc.
Welcome to our company to buy products!